Welcome to WHITE HOUSE FARM Equestrian
Next event is Dressage and Show Jumping on Sunday 16th June
Schedules on What's On page TIMES on Times Page
Ground behaving like a sponge and all set up ready to go!
Provided it eases off now we will be good for Sunday, but keep an eye on here just in case we get another biblical deluge!!!
NEXT jumping clinic date is Tuesday 18th June with LUCY HENSON
Lucy can concentrate on any aspect of the jumping phases you need to work on. Individuals or small groups catered for. Please contact Elaine on 07778 121653 or elainelovell@aol.com for details and bookings.
MORE NEW CLINIC DATES ADDED!
Please see updated Calendar on What's On page for details
*NEW* Regular Clinics with Guest Instructors
One of our liveries, Chloe Easton, has very kindly volunteered to organise some different clinics this year inviting guest instructors to utilise our facilities and offer some additional opportunities to train both yourself and your horse/pony.
Details of upcoming clinics will be advertised here and on Facebook.
Anyone interested in attending these new clinics should contact Chloe on chloe@fmcgexecutive.com or text her on 07891 248124.
We also invite potential instructors to contact Chloe to discuss possible dates/topics and other details.
Enquiries and bookings for individual and group schooling sessions as well as events should still be directed to Elaine Lovell on elainelovell@aol.com or text 07778 121653
We look forward to seeing you all again soon.
BRITISH SHOWJUMPING CLUB and JUST FOR SCHOOLS
Will run alongside our regular monthly show jumping and dressage shows from April to September, so get those dates in your diary and we look forward to seeing you all soon!
As usual we plan to offer three dates in March, May and this year November (thanks to British Eventing all moving back a week!). These will include the very popular ELANDLODGE.COM Qualifiers (formerly Horseware Ireland) for the finals each year at Eland Lodge in Derbyshire at the end of September.
LUCY HENSON JUMPING CLINICS
Regular training sessions with BE accredited trainer for individuals or small groups at all levels - DATES NOW ON WHAT'S ON PAGE - next is Friday 3rd May. Still contact Elaine or Lucy direct for details and bookings for all Lucy clinics
In addition to the above, we are also pleased to welcome other organisations onto our venue to organise and run their own events.
This year they include NORTON and DISTRICT RIDING CLUB, BLANKNEY PONY CLUB, POACHER HARNESS CLUB and CANICROSS EAST MIDLANDS.
WE CAN NOW TAKE CARD PAYMENTS - either in person or over the telephone - for event entries and schooling
We are also offering qualification for the SUNSHINE TOUR (prior registration now required), GREAT MIDLANDS HORSE SHOW and DAVID BROOME (CRICKLANDS) please ask the secretaries for more information. No prior registration involved for either of these
All xc remains open throughout the year - no matter what the good old British weather sends us (within reason!)
Can't think what to do for your birthday?
Why not get a group of friends together and come and have some fun even without a special occasion!!
We can organise special rosettes for all your guests (given sufficient notice!) You could have a little competition - a picnic and then work the cake off on the cross country!
Discounts are available for groups of five or more, just give Elaine a ring on 07778 121653 to discuss ideas.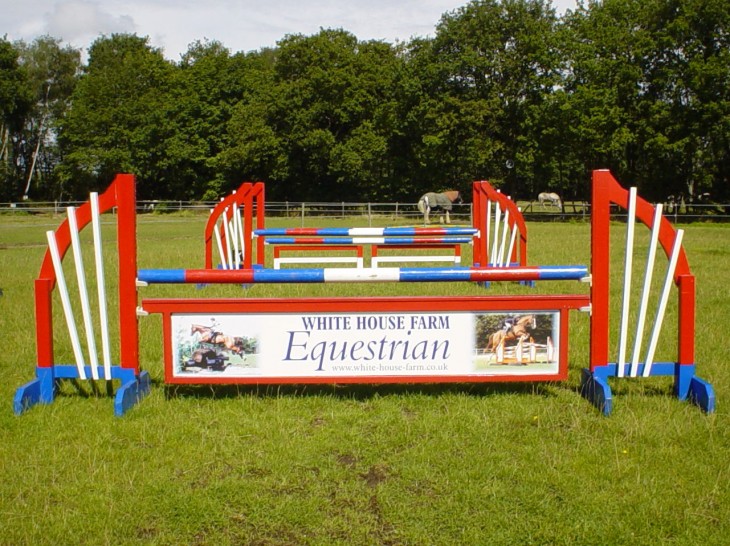 We are a BHS Approved Livery Yard and Facility Centre plus a British Showjumping affiliated venue offering competitions and training for every level of horse or pony and rider. From February to October each year we hold a range of competitions for dressage through show jumping to cross country and all our facilities are available for hire all year round.
There are usually three show jump courses available from April through to October and at least one show jump course out in the winter for those wanting to brush up their skills or just have some fun!
Our cross country course is continually being updated and improved with most of the course available all year round. There are jumps to suit everyone from the very nervous to the professional. Here is an example of one of our bigger jumps and please see the virtual course walk page for more photos - including some of our less scary ones!