Welcome to WHITE HOUSE FARM Equestrian
HUNTER TRIAL Sunday 26th March 2017
WE COULD STILL USE A COUPLE MORE FENCE JUDGES FOR THE AFTERNOON IF ANYONE IS KICKING THEIR HEELS?
Please let Elaine know text 07778 121653 or email elainelovell@aol.com
Classes 2 and 4 have been split between juniors and seniors. There are still a few who have not advised which they are, therefore I have put them in the middle of each class so they can go either way!
If you have a ? next to your name, please let me know which you are to make the scorers' lives a bit easier!
Text or email - please DO NOT RING as I may not be in a position to write it down!
Detailed times now on Times page.
DON'T FORGET WE LOSE AN HOUR OVERNIGHT!
We will endeavour to keep to schedule and hopefully get a bit ahead - there are a lot to go - so please bear with us and hope you all enjoy your day
Now we've got a bit more daylight, here is our updated calendar for the entire season!
Entries now open for show jumping and dressage on Sunday 16th April and 7th May (including full National BS classes) as well as our next Hunter Trial of the season on Sunday 21st May
Schedules for the remainder of the year will follow shortly so you can all get your diaries filled up in good time!
Don't forget you can ENTER WITH EQUO online! Save with show jump entries discounted £2 from on the day per round!
CALLING ALL THOSE STILL AT SCHOOL!
We are now offering BS JUST FOR SCHOOLS sections at all our show jumping shows. It is free to register with BS but must be done BEFORE the competition date. BS CLUB can still be joined within 14 days of competing.
We are also offering qualification for the SUNSHINE TOUR, GREAT MIDLANDS HORSE SHOW and DAVID BROOME (CRICKLANDS) please ask the secretaries for more information. No prior registration involved for any of these
AND here we go with the first schedules, also on What's On page
WHAT A GORGEOUS DAY it was on Sunday 13th November! Weren't we lucky with such a beautiful sunny day! It was specially ordered of course!
We could have done without the rain as now we have more repairs to do and the going was not perfect throughout - but hey - when does that ever happen - even here?!
But, on the day, most of the course held up incredibly well when some even considered we might cancel!
Very well done to everyone - we have an amazing team here now and many thanks to you all - I won't mention names, just in case I miss someone, but so well done to you all.
HAPPY NEW YEAR TO EVERYONE - and if you feel you would like to join our amazing team and contribute to a well run event next year, please do let me know!
RESULTS are all now on Results page
BIG congratulations to all those who qualified for the 2017 Horseware Ireland Hunter Trial National Championships at Eland Lodge at the beginning of October next year - quite an achievement!
If you didn't quite make it - watch this space for news of next year's events!
Want to play thru winter? ALL CROSS COUNTRY OPEN AND THE GOING IS GREAT
WHY NOT COME OUT AND HAVE A PLAY?
All xc remains open throughout the year - no matter what the weather sends us (within reason!)
Our 2017 dates will soon be available, so watch the What's On page for more details.
Can't think what to do for your birthday?
Why not get a group of friends together and come and have some fun!
We can organise special rosettes for all your guests (given sufficient notice!) You could have a little competition - a picnic and then work the cake off on the cross country!
Discounts are available for groups of five or more, just give Elaine a ring on 07778 121653 to discuss ideas.
Anyone wishing to view or order photographs from our events should visit www.davidnevephotography.co.uk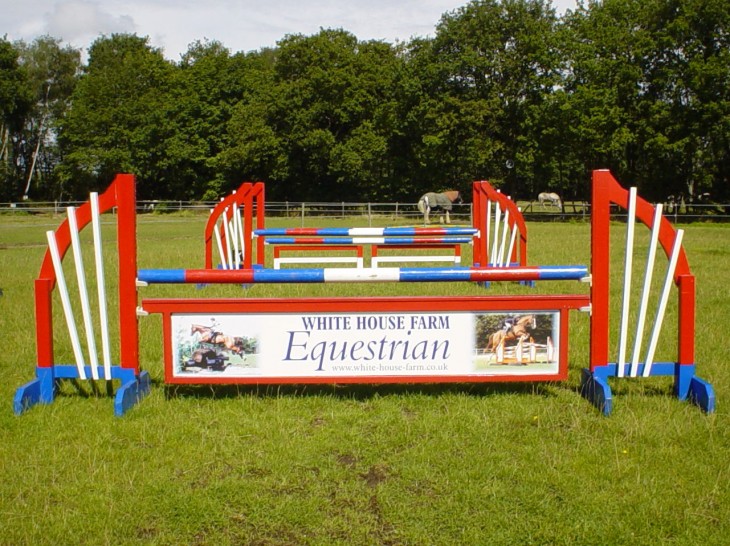 We are a BHS Approved Livery Yard and Facility Centre plus a British Showjumping affiliated venue offering competitions and training for every level of horse or pony and rider. From February to October each year we hold a range of competitions for dressage through show jumping to cross country and all our facilities are available for hire all year round.
There are usually three show jump courses available from April through to October and at least one show jump course out in the winter for those wanting to brush up their skills or just have some fun!
Our cross country course is continually being updated and improved with most of the course available all year round. There are jumps to suit everyone from the very nervous to the professional. Here is an example of one of our bigger jumps and please see the virtual course walk page for more photos - including some of our less scary ones!