Welcome to WHITE HOUSE FARM Equestrian
With sadness we have to join other equestrian organisations and cancel ALL COMPETITIONS for the time being - including the Hunter Trial planned for Sunday 22nd March.
We will however remain open for schooling and fun for individuals and small groups until and unless we are advised to lock down completely.
If you have entered and paid for the Hunter Trial by bank or card payment, please contact me via TEXT or EMAIL only. I have a full time job and cannot always answer my phone or voicemail. I will wade through the many messages I already have as soon as I can, but as you can imagine, there are quite a few!
We can arrange a refund to your bank account, or you can use the payment for a schooling session instead.
During these unprecedented times, please be patient, please be considerate and do not get too close to others when you visit.
There will be plenty of virucidal soap in our dispensers, so please use it. There may not be paper towels as toilet rolls are in short supply and paper towels down the toilet tend to block the flow - and that is not a pleasant job to put right!
Text Elaine 07778 121653 or email elainelovell@aol.com for updates and bookings. Please do not ring as I can't always take calls but will answer emails and texts as soon as I can.
HUNTER TRIAL Sunday 31st May 2020
We hope to be back to some sort of normality by this time and will review the situation at the beginning of May.
BRITISH SHOWJUMPING CLUB and JUST FOR SCHOOLS
Again, we hope to be able to offer some of these competitions this year, but will keep under constant review.
We are delighted to welcome several different riding and pony clubs who visit us each year for their own training and events.
For the time being, all of these are cancelled until at least the end of April.
We are working with our partners in organising and running these events, so keep in touch both with our website and those of the other organisations for updates.
WE CAN NOW TAKE CARD PAYMENTS - either in person or over the telephone - for event entries and schooling
We are also offering qualification for the SUNSHINE TOUR (prior registration now required), GREAT MIDLANDS HORSE SHOW and DAVID BROOME (CRICKLANDS) please ask the secretaries for more information. No prior registration involved for either of these
All xc remains open throughout the year - no matter what the good old British weather sends us (within reason!)
Can't think what to do for your birthday?
Why not get a group of friends together and come and have some fun even without a special occasion!!
We can organise special rosettes for all your guests (given sufficient notice!) You could have a little competition - a picnic and then work the cake off on the cross country!
Discounts are available for groups of five or more, just give Elaine a ring on 07778 121653 to discuss ideas.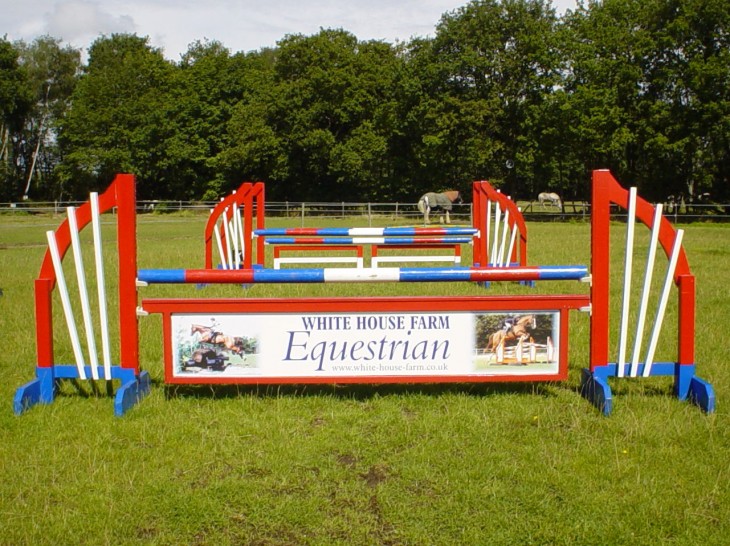 We are a BHS Approved Livery Yard and Facility Centre plus a British Showjumping affiliated venue offering competitions and training for every level of horse or pony and rider. From February to October each year we hold a range of competitions for dressage through show jumping to cross country and all our facilities are available for hire all year round.
There are usually at least two show jump courses available from April through to October and at least one show jump course out in the winter for those wanting to brush up their skills or just have some fun!
Our cross country course is continually being updated and improved with most of the course available all year round. There are jumps to suit everyone from the very nervous to the professional. Here is an example of one of our bigger jumps and please see the virtual course walk page for more photos - including some of our less scary ones!