Welcome to WHITE HOUSE FARM Equestrian
HUNTER TRIAL on Sunday 20th June
Well done to all who attended today and especially to those who qualified for the elandlodge.com finals in September!
Results are now on the results page
Many thanks to TROTTERS TACK SHACK for providing a huge array of items to shop for and to KIRSTY and daughter MOLLY form SMILE EVENT PHOTOGRAPHY who are so efficient that the photos are on the website already! Go to www.smile-event-photography.co.uk
Also thanks of course go to our small but brilliant team of officials and volunteers, without whom these events would simply not be possible.
WE'RE OPEN for schooling weekdays and weekends when no events are on. Just text or email Elaine for bookings.
Although some restrictions have been lifted, we plan to remain cautious and keep the booking and payment system as it is for the time being.
PRE-BOOKING and pre-payment is essential and we can take payments over the phone or preferably by direct bank payment.
Please contact Elaine VIA TEXT on 07778121653 or EMAIL elainelovell@aol.com to book your visit and say what is a good time to phone you back to take phone payment or ask for bank details if you don't have them already.
We are working on an on-line booking and payment system - please watch this space!
Welton & District Riding Club Friday evening dressage is proving very popular with the next one scheduled for Friday 23rd July. Get those entries in and paid as these events are very popular!
See What's On page for further dates
An excellent day of competition on 13th June with our "Not So Little Little Show" means that we are planning another one for September - watch this space!
We might be persuaded to try it again and have learned valuable lessons with timing of classes and running orders to help the day flow more smoothly.
Our next Hunter Trial is on Sunday 26th September organised by Welton & District Riding Club.
Our own end of season Hunter Trial will be on Sunday 31st October
Sunday Dressage and Showjumping - date confirmed for 22nd August
To include unaffiliated dressage classes from walk/trot to elementary PLUS showjumping from 60cm to over 1m - unaffiliated, British Showjumping CLUB and JUST FOR SCHOOLS sections. PLUS a mini show jumping ring with classes from 30cm
WE ARE REALLY LOOKING FORWARD TO WELCOMING EVERYONE BACK AGAIN FOR THIS LATE START TO WHAT WE HOPE WILL BE AN ENJOYABLE AND EDUCATIONAL SEASON!
PLEASE WATCH THIS SPACE FOR UPDATED INFORMATION JUST IN CASE THE SITUATION CHANGES AGAIN!
Text Elaine 07778 121653 or email elainelovell@aol.com for updates and bookings. PLEASE DO NOT PHONE as I can't always take calls but will answer emails and texts as soon as I can.
A working calendar is on our What's On Page showing all planned events so far. Others may well be added as the season progresses and always keeping in mind Covid developments and protocols at the time.
Pre entry and pre payment by electronic means will be essential for all events and times will be given.
The show jumping will run as single phase, ie competitors will jump just one round, the course will be slightly longer with the "jump off" being the final five or six fences. Full rules for this type of competition will be on our website before the first event runs and displayed at the collecting ring on competition day.
This will avoid the need to wait around for a jump off and there will be a one way system from the parking to the warm up and then from the main rings back to the parking.
We are working with our partners in the equestrian world regarding future events and training, so keep in touch both with our website and those of the other organisations for updates.
PAYMENTS - BANK OR CARD PRE-PAYMENTS are mandatory to avoid contact. Please state your preferred method of payment with booking.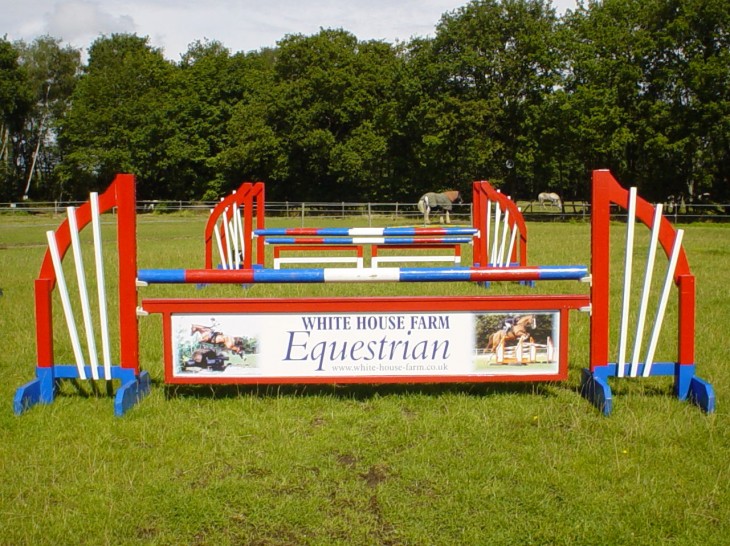 We are a BHS Approved Livery Yard and Facility Centre plus a British Showjumping affiliated venue offering competitions and training for every level of horse or pony and rider. From February to October each year we hold a range of competitions for dressage through show jumping to cross country and all our facilities are available for hire all year round.
There are usually at least two show jump courses available from April through to October and at least one show jump course out in the winter for those wanting to brush up their skills or just have some fun!
Our cross country course is continually being updated and improved with most of the course available all year round. There are jumps to suit everyone from the very nervous to the professional. Here is an example of one of our bigger jumps and please see the virtual course walk page for more photos - including some of our less scary ones!